XXX Viljandi Folk Music Festival has begun
The four days of celebratory anniversary festival in the castle Hills and town centre of Viljandi started with a procession and an opening ceremony at Kaevumägi.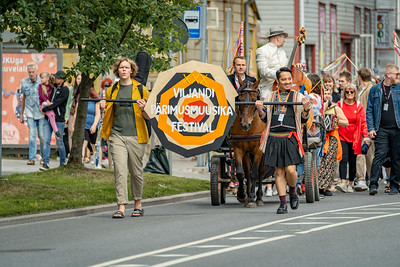 The president of the Republic of Estonia Alar Karis said at the opening ceremony that Viljandi Folk Music Festival is a powerful phenomenon at the local cultural scene. "Its existence and growth have given a big boost to our folk movement. It's clear that the traditional culture would not have such a strong and lively position in our people's minds if it wasn't for Viljandi Folk Music Festival. It is very important for Estonia and Estonians to acknowledge our roots and be in contact with our heritage and previous generations – our story. It gives our small nation a remarkable strength. That strength helps us to endure all storms and upholds us. It's our secret rear and hidden treasury," president Karis said.

The head festival Ando Kiviberg received the key of the town from the mayor and when asked about the secret of the festival's longevity, said: "Love. Love for what we do and knowing why we do it." He added that Viljandi Folk Music Festival was born to help our music tradition to truly live.
654 musicians in 99 groups, including 13 foreign artists, will perform during the four days of the Viljandi Folk Music Festival. The main programme includes 78 concerts and 37 workshops. In addition, there are almost 70 free concerts at the Green stage and in the Õlleõu.