XXX Viljandi Folk Music Festival announces first Estonian performers
This year's festival features an exclusive concert from an old audience favorite, Vägilased. The band's last performance also took place at Viljandi Folk Music Festival, in 2011.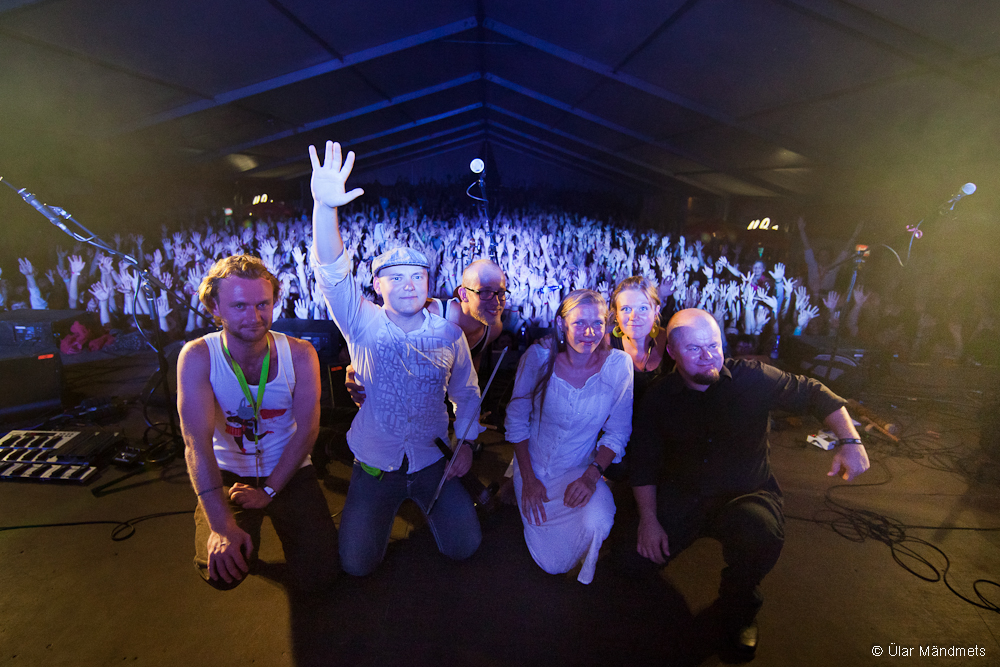 In 2006, Mihkel Raud wrote in a major Estonian daily newspaper Eesti Päevaleht that Viljandi Folk Music Festival is like a Vägilased's concert with a couple dozen warm-up acts. Now, in 2023, the group who made the festival audiences happy from 2001 until 2011, have once again promised to play their best-known and most cherished tunes.

While envisioning the first drafts of this year's significant 30th festival programme, the head of the festival Ando Kiviberg received a message from Meelika Hainsoo, the front woman of Vägilased, saying that the band has decided to get back together for this special occasion. "I was thrilled when I got the letter and that step from Vägilased is a very remarkable move. I know that the members have received several proposals over the years to make a comeback, but they've refused them all firmly. Nevertheless, the miracle will take place in July of 2023 and I'm convinced that their concert will be one of the highlights of the 30th Viljandi Folk Music Festival. I am deeply moved by this lovely gesture and truly grateful to Vägilased," Kiviberg said.

According to Meelika Hainsoo, the concert of Vägilased will be one of a kind and it is their expression of gratitude to Viljandi Folk Music Festival, which celebrates its big birthday this year. "We gave our last concert twelve years ago, at this very festival. It's great that the festival is still going strong, and to celebrate it properly, we will get back together and give one good nostalgic concert," Hainsoo announced. The band members include Meelika Hainsoo, Cätlin Mägi, Tiit Kikas, Jan Viileberg, Marti Tärn and Reigo Ahven. In addition, there will be surprise guests.

Another artist taking the stage in July, is Kaisa Kuslapuu, who just won an Estonian Music Award with her group Lonitseera. She'll come to the festival with Kaisa Kuslapuu Trio which comprises herself, bass player Meelis Pihlap and percussionist Tõnis Kirsipu.

Kaisa Kuslapuu is a multi-instrumentalist whose roots are in South-East Estonia and who is looking for a good flow. Her way of thinking and creating is influenced by classical, jazz and also traditional music which has surrounded her from early childhood. Her current journeys circle around the piano and her concert will be focused mainly on Southern Estonian folk music which meets improvisations and Kaisa's own original compositions.

In the autumn of 2022, Kaisa Kuslapuu released her solo EP Heinast Hobu. The motivation behind the album was to give more currency to piano in folk music. Bass player Meelis Pihlap and percussionist Tõnis Kirsipu joined in to record the title track and together they put folk piano and old tunes into a new and exciting context. And now the festival audience has a chance to hear the music born from that cooperation.

The theme of XXX Viljandi Folk Music Festival is "Let It Resound!" and the festival is dedicated to cheerful celebration, party traditions and hope for a brighter future. To create a fittingly festive mood, this year's programme includes many high-spirited bands. Another confirmed performer, in addition to the first Estonian artists, is a party band from Poland.

Tęgie Chłopy is famous in Poland for their dynamic concerts that can "shift the ceiling" and burn up the dance floor. They carry the traditions of live dance music from the Kielce region in Central Poland and their mission is to revive the old village music.

The members of the legendary band are the disciples of village musicians and their instruments include many brass instruments characteristic of the Kielce region. People remember that in the old days, the musicians were able to lift the ceilings with their music. And that is the goal of Tęgie Chłopy, too. Their album Dansing was voted by listeners of Polish Radio 2 as the Best Polish Folk Album of the last 25 Years.

The members of the band are Maniucha Bikont – tuba, vocals; Maciej Filipczuk – fiddle; Ewa Grochowska – fiddle, vocals; Mateusz Kowalski – accordion; Michał Żak – clarinet, soprano saxophone, vocals; Michał Maziarz – tenor saxophone; Dorota Murzynowska – baraban drum; Szczepan Pospieszalski – trumpet, electronics, vocals; Marcin Żytomirski – fiddle, vocals.